Director : James Cameron
Producer : 20th Century Fox
Actors   : Sam Worthington, Sigourney Weaver and Zo Saldana etc
Date of release : 18 Dec 2009
Budget : $300,000,000

"AVATAR" the most awaiting film for movie lovers , in other ways the long expecting movie from James Cameron(Titanic movie director). As expected James has excelled in his presentation and narration to full fill his thrust for his dream project AVATAR - " A sci-fi epic". His direction values and technical measures surpasses the all other Film directors till today. The single line review for AVATAR is
"A fabulous sci-fi derived from Indian mythology with a perfect blend of high technical values and ground braking visual effects"

adding to this this is the first film in my life in which I have seen people clapping at THE END as like in a live drama. Definitely AVATAR is a film that leaves you speech less if you analyze.

After almost 15 years I watched a 3D movie "AVATAR" which failed to give the best illusion compared to my first 3D movie I saw. The first 3D movie I watched is "CHOTA CHETAN" (Chinnari chetan in Telugu) which I never forget in my life due to the best impressions it had created in my mind. we know how the technology was used to be 15 years back still CC was best in its 3D effects. I felt AVATAR is not having 3D effects in the last 40 mins of the movie or else theater management failed to project properly ; Don't know the reason for the same.
Coming to story line A retired Marine major starts a mission to occupy a new planet called "Pandora" (lush rain forest environment filled with incredible life forms and vast minerals)which is inhabited place for alliance called Na'vi(A 10 feet human resembling personality with added tail, blue colored skin and fluorescent marks on the face ). In his mission to exploit this planet he creates technology with which a human can be part of the Na'vi and understand and explore the new planet and their culture. That they called AVATAR. Jake is also an Ex-marine who is physically challenged and as replacement for his brother he joins this mission and agrees to be in a AVATAR. On his duty in a AVATAR while he is exploring Pandora he fell in love with a lady Na'vi Neytiri and ultimately when Humans are invading the Pandora he realizes he is also part of that and he fights against Marine and finally he succeeds.
The foremost thing intrigued me about this movie is the fact that "James" got inspired by the Indian mythology and especially "The Ramayana" with which he portrayed few characters and story line in AVATAR.Hence my whole perspective went on like this, I'm least fascinated by the ground breaking graphics or CGI but the interesting points for me is to analyze and correlate the AVATAR with our mythology. As far as I'm concerned the AVATAR is a means of God in human body.

like this there are many more analogies in Indian minds...

The scintillating objects to rejuvenate the Na'vi body are good looking.With beautiful visual effects and also the high definition colors used for Sky birds are also amazing.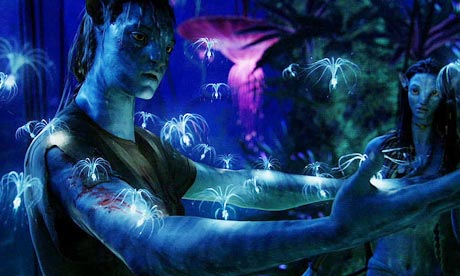 P.S :
When we narrate the whole Ramayana / Mahabaratha to an English man, the points to which he gets fascinated if he believes in the story, those unforgettable or impacting points in his mind helps him in writing his own story keeping these points as major assets. That's how James has made this AVATAR film I suspect.


What ever the reasons people are enjoying this great work .... I too...

10 comments to "Avatar Vs The Ramayana"
the best movie i had ever scene on the silver screen.....i dont have nay words other than just loving it......

very nice analogy babu....grt work

The technology used in the movie may be great, but the there was no need to show indian holy characters as aliens in need. In tomb raiders also monkey ( based on hanuman ) was shown fighting with Laura Croft ( Angelina Joley). These hollywood people have facination of hindu gods, but they don't show proper respect for Indian religious sentiments.

I saw the movie today and my wife said that it resembled Ramayana, i was stumped after reading the above. Really appreciate the post above. i am proud that this movie is inspired from Ramayana However i also feel sad that we being Indians were not able to come something similar to this as we have some bright minds and best creativity.

Deepak A

Hey Nice blog... very similar to my blog on the same subject. I think we have similar frequency not only in this topic but others too... http://reviews-of-abilash.blogspot.com/

The movie is definitely inspired by Hindu mythology...some more points to add to babu's comments
1. Just like the hero tries to save the tribe from extinction,Lord Vishnu manifests himself in the form of human being to save people from the evil Ravana.. Avatar means form or incarnation in Sanskrit.

2.Definitely the colour and the height of the tribes is inspired from Ramayana and "Ajanabahudu" meaning very tall long footed concept is used to depict the height.. and also the V shaped tilak on the forehead depicts the followers of Vishnu.

3. One of the other important things to be noted is that when someone has to be a part of the tribe they have to get absolute control over the bird on which they will ride. This means that our vehicle of actions is controlled by the union of our mind and the senses.


Awesome concept..hats of James for this wonderful movie...

Yes this is true. The color of Rama is Blue, The symbol on his forehead, Hanging rocks in movie resembles floating rock of Rama's bridge(Adams Bridge), The bird in the movie resembles satayu in ramayana(Which fights against the enemy of rama), The whole navi groups has tails like Hanuman & vanaras. In both the villan uses technology to fight against the hero and so on... Happy that english peoples are inspired by our Indian epics ramanaya instead of learning the invaders culture, we Indians should try to learn our own mythology and forefathers culture,religion etc., because we ourselves have a great and good culture why to run behind others culture?

Good post. Though your grammar was a bit incoherent at times. I am reading this in English, though. Did you write this in Hindi originally and I'm just reading the Internet's auto-translated version of it?

But, yes, I do agree that this film shares many similarities with the Ramayana. And that's not a bad thing at all. At the very least it incorporated the theme of interconnectedness that resonates throughout many eastern philosophies and faiths.

After some exhaustive research, I have reached to a conclusion that versions of Ramayana exists in many languages, including Annamese, Balinese, Bengali, Cambodian, Chinese, Gujarati, Javanese, Kannada, Kashmiri, Khotanese, Laotian, Malaysian, Marathi, Oriya, Prakrit, Sanskrit, Santhali, Sinhalese, Tamil, Telugu, Thai, Tibetan, etc. In Sanskrit itself there are 25 different versions. According to A. K. Ramanujam, more than 300 tellings of Ramayana exist.

Each has newer dimensions, more fascinating than the other.

Read them in reverse order here- http://souravroy.com/?s=too+many+ramayanas

what about Matrix and bhagavadgita